NGRA believes strongly in the extension and outreach function and its role in ensuring the commercial adoption of scientific advances. We require that all projects we support include a well-conceived extension component, and we ensure that outreach specialists feel connected and supported at a national level.
—————————————————————————
Two Opportunities for Learning in Lodi
Join the Lodi Winegrape Commission for these informative and free events:
December 11, 2018: Lodi Vineyard Mechanization Showcase
Venue: Burgundy Hall, Grape Festival Grounds, Lodi, CA 95240
Time: 8am – 2pm, lunch included
Description: During the first of what will hopefully be an annual LODI VINEYARD MECHANIZATION SHOWCASE, growers will learn the latest innovations from the major mechanization equipment companies. Tips on how to optimize high wire trellising systems will be provided by growers and others leading the way. Mechanization is a large financial investment and we want to help enhance grower's chances of success and profitability. Hosted by the Lodi Winegrape Commission. Note: this is an indoor workshop with presentations; no actual mechanization equipment will be present this year but we hope to expand the event with equipment in 2019.
For more info: Contact Stephanie Bolton at stephanie@lodiwine.com. Event is free and all are welcome.
April 4, 2019: Lodi Mealybug & Virus Outreach Meeting
Venue: Cabral Ag Center, 2101 E Earhart Ave #100, Stockton, CA 95206
Time: 9am – 2pm, lunch included
Description: Grapevine viruses are expensive, complicated, and confusing, but HELP is on the way. Learn real-world management tips from the Lodi Grapevine Virus Research Focus Group and special guests Prof. Gerhard Pietersen (South Africa) and Dr. Marc Fuchs (Cornell University). Hosted by the Lodi Winegrape Commission with support from the American Vineyard Foundation and the CDFA PD/GWSS Board.
For more info: Contact Stephanie Bolton at stephanie@lodiwine.com. Event is free and all are welcome.
—————————————————————————
National Viticulture and Enology Extension Leadership Conference
A primary example of how NGWI furthers the outreach role is the National Viticulture and Enology Extension Leadership Conference (NVEELC). Organized by regional and/or institutional hosts with support from NGWI, the event annually gathers wine, juice, table and raisin grape extension professionals working within and outside of traditional cooperative extension. It offers professional development, includes research and regional reports, and fosters collaboration and dialogue, helping viticulture and enology extension professionals stay apprised of industry challenges across the country. Field trips to vineyards and labs is an important part of the agenda for this event, which is held in a different grape region each year. NVEELC 2019 will be held in Texas–more details to come!
—————————————————————————
Efficient Vineyard
Work continues on proximal sensing for vineyard management and forecasting via the SCRI Efficient Vineyard project, led by Cornell University's Terry Bates with participation from researchers at Carnegie Mellon University, UC Davis and more, and supported in part by NGRA. See ongoing updates on this game-changing research in progress, including practical applications available now, at efficientvineyard.com. Also, in 2018, the project's Technology Adoption and Outreach Group is presenting a webinar the second Tuesday of each month. Register here.
—————————————————————————
VitisGen2
Now in its second phase, the NGRA-supported, SCRI-funded VitisGen project continues to explore the "Application of Next Generation Technologies to Accelerate Grapevine Cultivar Development." Co-PI's Bruce Reisch (Cornell University) and Lance Cadle-Davidson (USDA-ARS) lead a team focused on marker-assisted breeding with a focus on powdery mildew resistance. Get regular updates on the team's website at vitisgen2.org.
—————————————————————————
Preventing Herbicide Drift from Neighbors
The Oregon State University Extension publication, Are Your Weed-control Products Damaging Nearby Vineyards?, was developed to help the public understand the damaging effects that common herbicides can have on grapevines. Share this document with your local growers to help them reduce herbicide drift damage to grapevines.
—————————————————————————
Trunk Disease Management Tool
One of the outcomes of the SCRI Trunk Disease project, this online economic calculator provides useful figures and tables from an economic analysis of early adoption of three field-tested, preventative practices (delayed pruning, double pruning, and application of pruning wound protectant) that will help you understand the potential costs and benefits from adopting trunk disease preventative practices in young winegrape vineyards. You will also be able to enter economic and yield data for your operation to see how trunk diseases and these preventative practices might affect your vineyard.
—————————————————————————

The Vineyard Advisor Mobile App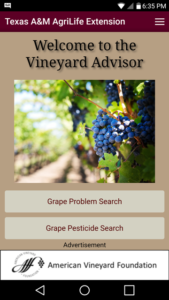 In August 2017, Ed Hellman, Professor of Viticulture and Extension Specialist with Texas A&M AgriLife Extension announces release of a powerful new mobile application for vineyard managers. The Vineyard Advisor mobile app provides recommendations for management of approximately 350 problems afflicting grapes; including diseases, insects, mites, nematodes, wildlife, environmental stress, physiological disorders, and weeds. The scope of this app addresses grape production challenges throughout the United States. Recommendations are provided on control strategies and action thresholds, natural controls and cultural practices, organic materials, and pesticides. The Vineyard Advisor accesses the EPA label database to deliver the most current list of all pesticides labeled for use on grapes to control a specific problem. Full labels are available in PDF format for most pesticide products. Weed management recommendations provide cultural practices and general recommendations, as well as special considerations for difficult to control weeds, or those that have developed tolerance to herbicides. Again, the most current list is provided of all herbicides labeled for use on grapes to control a specific weed. Two search options are available to the user: search The Vineyard Advisor database for grape problems, or search for pesticides labeled for use on grapes. The pesticide search can be done by product name or active ingredient. Links are provided to the app user's state agricultural extension service and pesticide regulatory agency based on the user's location. The Vineyard Advisor is now available for free download here:
Google Play (Android version 8.0 or later):
https://play.google.com/store/apps/details?id=edu.ttu.TTUVineyardAdvisorApp
iTunes App Store (iOS 8.0 or later):
https://itunes.apple.com/us/app/ttu-vineyard-advisor/id1435822922?mt=8
The Vineyard Advisor mobile application began as a project funded by the American Vineyard Foundation in 2014, led by Ed Hellman. A working prototype was developed with initial management recommendations provided by Justin Scheiner, Viticulture Extension Specialist, Texas AgriLife Extension. David Stone and Sean Ross of Oregon State University provided programming to access the EPA pesticide database. Following proof of concept with the prototype, the project was expanded with State of Texas funding to develop a fully functional mobile app for both Android and Apple platforms. The scope of problems was expanded to include more than 200 weeds, and all management recommendations were revised and expanded. Contensive, Inc., based in Leesburg, Virginia, was contracted to produce the app, including design and online strategy, development, maintenance, and hosting.
Dr. Hellman will continue to serve as project manager as he moves from a joint appointment with Texas AgriLife Extension and Texas Tech University, to a full-time position with Texas Tech University as Professor of Viticulture at the TTU regional teaching site in Fredericksburg. He can be contacted at ed.hellman@ttu.edu
—————————————————————————

Catalyst: Discovery into Practice
The American Society for Enology and Viticulture launched this new journal in 2017, focusing on the translation of research into practice, and extending fundamental discoveries in the scientific disciplines to sustain and advance winemaking and grapegrowing. The journal provides a new publishing avenue for extension specialists, as well, including not only traditional narrative submissions but also video entries. See issues online at asev.org/catalyst.
—————————————————————————
Northern Grapes Project
This $2.5 million Specialty Crop Research Initiative project brought together 34 researchers from 12 institutions to address varietal performance and resulting fruit and wine flavor attributes in cold climates. The Northern Grapes Project will help growers to apply appropriate viticultural practices to achieve consistent fruit characteristics for ripening, and help winemakers address their unique fruit composition to produce distinctive wines that consumers will like and purchase. The project will also explore consumer preferences, developing individual/regional marketing strategies to increase sales and sustained profitability of wineries and vineyards.
The Northern Grapes Project now offers a News You Can Use newsletter, providing brief, timely information, generated via research conducted as part of the Northern Grapes Project, as well as material derived from other sources. The first edition may be read here.