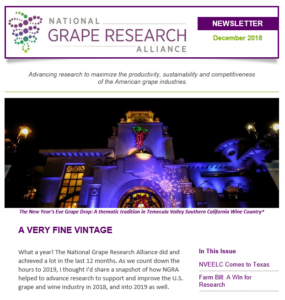 NGRA publishes a monthly e-newsletter to keep our members–and industry at large–updated on recent research-related topics. Want to receive your very own copy? Use the form at left to subscribe!
Click to the December edition to learn…
Why it was a very fine year for NGRA
How the government shutdown affects research agencies
The ways Farm Bill 2018 is a win for research and
What dates to reserve for NVEELC 2019
Interested in back issues of our newsletter? Find the last few editions below, and archives at link at left.