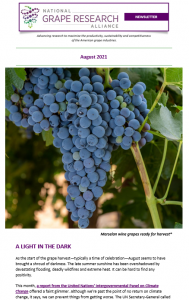 NGRA publishes a monthly e-newsletter to keep our members–and our grape industry and academic community at large–updated on recent research-related topics. Want to receive your very own copy? Use the form at left to subscribe!
Consider grape research through the lens of climate change
Learn how technology for facial recognition is being applied to powdery mildew
Get the scoop on NVEELC 2022 (and save the date!)
Meet some new-hires in grape research…and consider a few new opportunities
Interested in back issues of our newsletter? Find the last few editions below, and archives at link at left.