2021 Rich Smith Award Presented to Donnie Winchell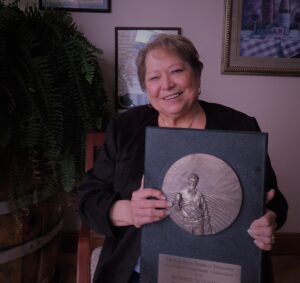 SACRAMENTO, CA, January 20, 2021 — The fifth-annual Rich Smith Distinguished Service Award for outstanding contributions to the American grape and wine industry was conferred yesterday upon Donniella "Donnie" Winchell, Executive Director of the Ohio Wine Producers Association (OWPA). The award was given in a surprise presentation by the Smith Family, the National Grape Research Alliance, WineAmerica and Winegrape Growers of America—organizations for which the late Richard "Rich" Smith was a founding member and guiding force. Donnie is the first woman to receive the award.
Donnie has served the OWPA since its founding in 1978, making her the longest-serving leader of a wine trade association in the U.S. She is past chair of the WineAmerica State and Regional Associations Advisory Council. The award was presented during a virtual meeting of this group by her brother, Tony Debevc, founding chair of WineAmerica, who surprised her on location.
See video of Donnie receiving the award.
(Enter passcode &E=9e+4r to view.)
Donnie's efforts are widely credited for the growth of the $6 billion* Ohio wine industry. She created the first wine promotions ("Ohio Wines—From the Heartland"), catalyzed the creation of tourism-focused wine trails, and organized "Vintage Ohio," one of the nation's first wine festivals. Beyond Ohio, her "License to Steal" initiative, at first a one-day informal chat she initiated among a few trade association colleagues, has become a national wine marketing conference. Donniella Winchell was elected to the Ohio Wine Hall of Fame in 2002 and was named one of Wine Business Monthly's Wine Industry Leaders in 2020.
Although OWPA's focus is primarily promotion, Donnie also has been instrumental in the public policy and research/extension arenas. She has made frequent lobbying trips to her state capital, Columbus, organized themed wine tastings for the state legislature, and has worked closely with WineAmerica in getting support from Ohio lawmakers for initiatives to support the wine industry at the federal level. In the area of research/extension, she has organized many winter meetings with Ohio State University scientists to help educate the industry.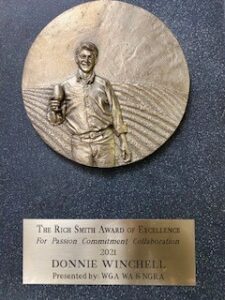 Donnie has served on the Board of Directors of Winegrape Growers of America, the Ashtabula County Convention and Visitors Bureau, the Ohio Travel Association and the Ohio Division of Travel and Tourism Advisory Committee as well as on several other travel and economic development councils. She speaks regularly at regional and national wine and tourism conferences, and is an Adjunct Professor at Kent State Ashtabula, teaching marketing and wine industry-related courses.
In presenting the award, Claudia Smith, Rich Smith's wife, said, "When I first met Donnie in the late 80's, we were just beginning to make our own wine in Monterey County (as little known a wine region then as Ohio). At a WineAmerica meeting, she was like a blast of balmy air on a snowy day in Washington, D.C. As we shared state by state what we were doing to promote our wines, she listed all kinds of brilliant grassroots-type projects she was rocking Ohio with. There was no end to her enthusiasm, energy and success. Years later, when we had a WineAmerica meeting in Ashtabula, we experienced first-hand the awesome hospitality of Ohio wine country and its incredible wines. Donnie epitomizes the collaboration, passion and commitment that so defined Rich in all he did."
"Donnie Winchell is the spiritual sister of Rich Smith in terms of the passion, commitment and collaboration that has made them both such valuable and inspiring leaders in the American grape and wine industry, "said Jim Trezise, President of WineAmerica and 2020 Rich Smith Award recipient. "For more than 40 years, she has tirelessly built and promoted the Ohio wine industry, created the popular License to Steal conference, held leadership roles in several industry organizations like WineAmerica, and brought incredible energy and infectious enthusiasm to everything she does. She is my hero."
Donnell Brown, President of the National Grape Research Alliance, said, "Donnie works closely with her state's viticulture and enology scientists to ensure research helps advance the quality and competitiveness of Ohio's wine industry. And she proudly pours the Ohio wines made from newly developed cold-hardy varieties at national conferences, where they rival the wines of any other region."
"It is fitting that Donnie Winchell is the first woman to receive the Rich Smith Award," said Vicky Scharlau, Executive Director of Winegrape Growers of America. "She has put heart and soul into building Ohio's wine industry for more than four decades. She is a role model for all wine industry leaders, male or female."
Past Rich Smith Award Recipients
2020 – Jim Trezise, WineAmerica
2019 – Jerry Lohr, J. Lohr Vineyards & Wines
2018 – Pete Downs, Family Winemakers of California
2017 – John Martini, Anthony Road Wine Company
# # #