Excellence in Extension: NVEELC 2018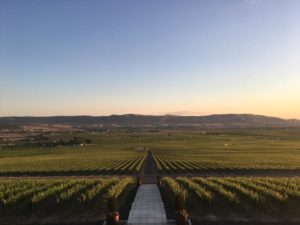 The 2018 National Viticulture & Enology Extension Leadership Conference (NVEELC) took place May 20-22, hosted by Washington State University (WSU) Viticulture Extension in Prosser–the heart of Washington State wine country. The 50 extension and outreach specialists who attended represented both viticulture and enology, their experience ranged from 30+ years in their post to less than six months, and they spanned grapegrowing regions from North Dakota to Texas, California to Kansas, Georgia to New Jersey, Missouri to New Mexico, New York to Washington and Oregon. NGRA was proud to help support the event.
See photos from the event on the NGRA Facebook page.
The two-day agenda, expertly planned by WSU's Dr. Michelle Moyer, was packed with professional development and opportunities to share challenges and some smart solutions. And to help seed ideas and identify resources for other regions, it included some special show-and-tell featuring programs and assets unique to Washington:
Harmonization efforts for clean plant and quarantine processes across Washington, Oregon and Idaho, a collaboration of the Washington Wine Industry Foundation, NW Foundation Block Advisory Group and State Departments of Agriculture from Idaho, Oregon and Washington
Smoke taint research by the industry's foremost expert, Dr. Tom Collins, WSU
An initiative to proactively update federal regulations for airblast sprayers led by the Washington Tree Fruit Research Commission and researchers at WSU
An incubator program for startup wineries at Yakima Valley College
Field Concord and irrigation trials by Dr. Markus Keller at the WSU Irrigated Agriculture Research and Extension Center (IAREC)
Certified clean plant operations at the Clean Plant Center Northwest at the WSU IAREC
Sticks-to-whole plants nursery operations at Inland Desert Nursery
The well-equipped winery and labs at the WSU Ste. Michelle Wine Estates Wine Science Center
And a selection of the beautiful wine country spaces like the Walter Clore Wine and Culinary Center, County Line Winery and Restaurant and Col Solare Winery at Red Mountain (shown at right)
NVEELC 2018 was made possible by host WSU and sponsors G.S. Long Co. Inc., J. Lohr Vineyards and Wines, Oregon Vineyard Supply, Ste. Michelle Wine Estates, Washington Winegrowers and Wilbur-Ellis. And travel scholarships provided by the California Association of Winegrape Growers, California Table Grape Commission and E.&J. Gallo Winery enabled five extension specialists to attend.
NVEELC 2019 will be held in Texas, with exact dates and location to be announced. If you work in extension or outreach, we hope to see you there!